---
---
Mechanical sprung seat Extra strong scissor suspension. Backrest adjustable and foldable. suspension Adjustable height to 3 different positions. Height adjustment: 60 mm. Height from base plate to seat cushion top edge 310 mm -370 mm Suspension travel: 80 mm. Weight adjustment: 50 to 130 kg. Longitudinal adjustment 176 mm,each step 16mm. Adjustable back extension down 80°. Armrests can be tilted - height adjustable and folded. Highly durable faux leather cover. Interchangeable covers and pads Lap belt mounting points according to DIN standard. Seat pad width: 525 mm. Extra thick padding. Width with armrests: 615 mm. Mechanical lumbar support. Retractable seat belt. Contains Operator pressure sensor. Mechanical Suspension Tractor Seat, Adjustable Backrest Headrest and Slide Rails, Adjustable Armrests Shock Absorber Heavy Duty for Forklift Excavator Harvester 【Safe, comfortable and durable】Highly durable faux leather cover.Made of firm steel plate and High rebound polyurethane foam. 【Multi-directional adjustment】adjustable Headrest and Slide Rails,angle adjustable armrest.Backrest adjustable back extension down 80°. 【suspension stroke】Suspension Adjustable height to 3 different positions.Height from base plate to seat cushion top edge 310 mm -370 mm. 【Safe】Retractable seat belt.Contains Operator pressure sensor. 【Universal Agricultural Machinery Seats】This suspension seat is designed for most of heavy mechanical seat, such as fork lifts, dozers, aerial lifts, floor scrubbers, riding mowers, tractors, excavator and trenchers. tractor seat atv utv tractor mechanical suspension seat tower crane tractor mower parts seat excavator seat forklift seat dozer seat utility lowback universal lawn mower seat deluxe midback high back seat agricultural machinery tractor seats
Keywords: Industrial Agriculture Lawn & Garden Utility
---
About this item
Technical details
Mechanical sprung seat
Extra strong scissor suspension.
Backrest adjustable and foldable.
suspension Adjustable height to 3 different positions.
Height adjustment: 60 mm.
Height from base plate to seat cushion top edge 310 mm -370 mm
Suspension travel: 80 mm.
Weight adjustment: 50 to 130 kg.
Longitudinal adjustment 176 mm,each step 16mm.
Adjustable back extension down 80°.
Armrests can be tilted - height adjustable and folded.
Highly durable faux leather cover.
Interchangeable covers and pads
Lap belt mounting points according to DIN standard.
Seat pad width: 525 mm.
Extra thick padding.
Width with armrests: 615 mm.
Mechanical lumbar support.
Retractable seat belt.
Contains Operator pressure sensor.
Mechanical Suspension Tractor Seat, Adjustable Backrest Headrest and Slide Rails, Adjustable Armrests Shock Absorber Heavy Duty for Forklift Excavator Harvester
【Safe, comfortable and durable】Highly durable faux leather cover.Made of firm steel plate and High rebound polyurethane foam.
【Multi-directional adjustment】adjustable Headrest and Slide Rails,angle adjustable armrest.Backrest adjustable back extension down 80°.
【suspension stroke】Suspension Adjustable height to 3 different positions.Height from base plate to seat cushion top edge 310 mm -370 mm.
【Safe】Retractable seat belt.Contains Operator pressure sensor.
【Universal Agricultural Machinery Seats】This suspension seat is designed for most of heavy mechanical seat, such as fork lifts, dozers, aerial lifts, floor scrubbers, riding mowers, tractors, excavator and trenchers. tractor seat atv utv tractor mechanical suspension seat tower crane tractor mower parts seat excavator seat forklift seat dozer seat utility lowback universal lawn mower seat deluxe midback high back seat agricultural machinery tractor seats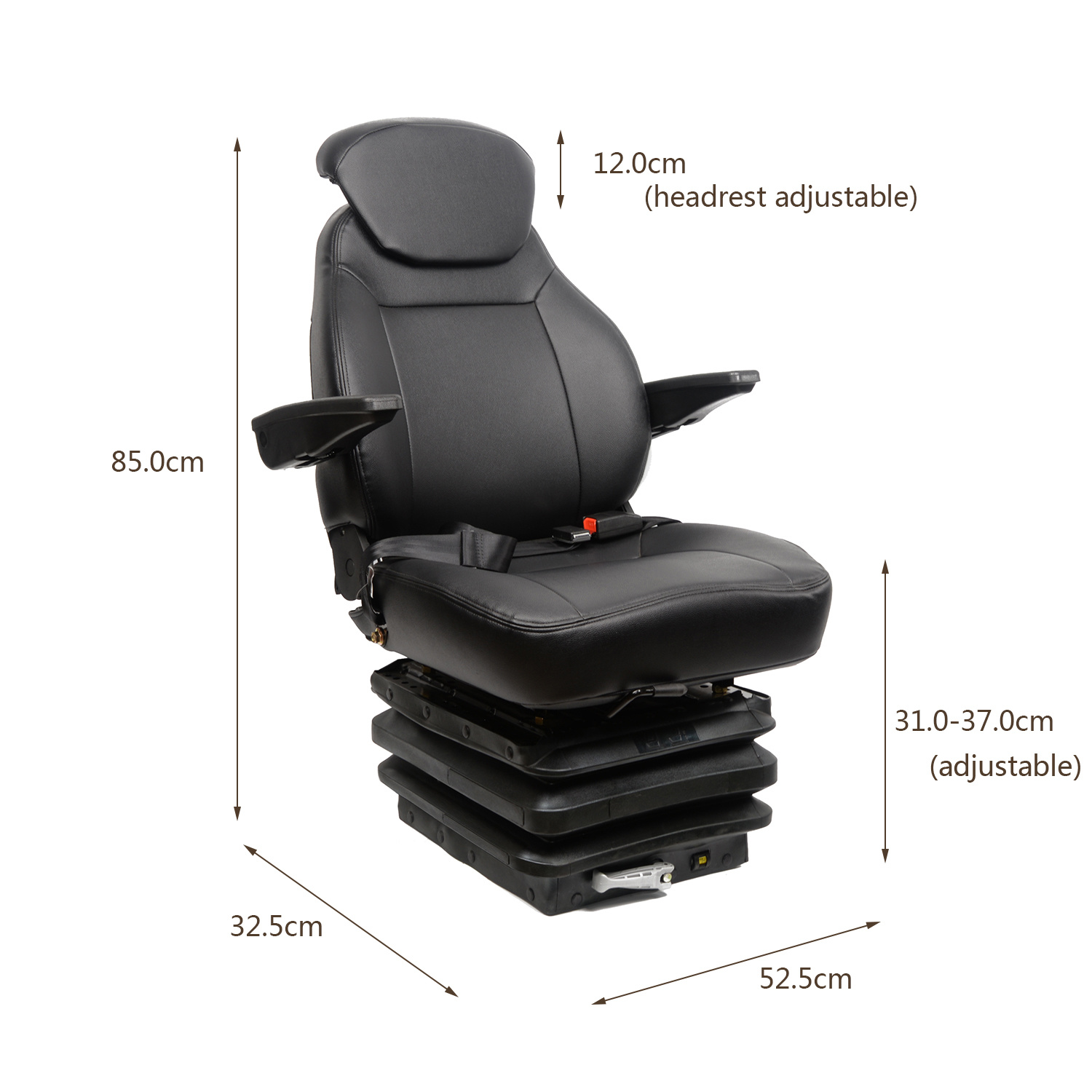 KL Seating
---
*Note: Please be sure to fill in the information accurately and keep your communication open, we will get in touch with you as soon as possible