---
---
【Safe, comfortable and durable】Highly quality PVC faux leather.Made of firm steel plate and High rebound polyurethane foam.All parts of the product have undergone rigorous durability tests.High temperature resistant and water proof. 【Adjustable and comfortable】The seat back is 160° adjustable.Ergonomic Designed and armrest equipped make the seat very comfortable to sit on. 【suspension stroke】Suspension Adjustable height to 3 different positions.Height from base plate to seat cushion top edge 310 mm -370 mm. 【Safe】The new model has been upgraded to retractable seat belt with emergency locking..Contains Operator pressure sensor. 【Universal Agricultural Machinery Seats】This suspension seat is designed for most of heavy mechanical seat, such as fork lifts, dozers, aerial lifts, floor scrubbers, riding mowers, tractors, excavator and trenchers. Description * Swivel for Easy Entry/Exit and Operator Positioning * Steel Pan with Trimmed Edge * Black Molded Cushions * Vinyl Seat * Adjustable Armrests * Adjustable Seat Back (Backward 28°, Forward 90°) * Suspension with Weight & 3 Position Height Adjustment * Includes Retractable Seat Belt * Slides Specs * 1.75", 2.50", 3.25" Stroke Depending on Suspension Setting * Weight Capacity: 110lbs.-286lbs Application * Loaders * Backhoes * Construction Equipment * Street Maintenance * Utility Tractors * Combines * Cotton Pickers * Sprayers * Forage Harvest * Hay Cuber * Speciality/Industrial Tractors
Keywords: Industrial Agriculture Lawn & Garden Utility
---
About this item
* 【Safe, comfortable and durable】Highly quality PVC faux leather.Made of firm steel plate and High rebound polyurethane foam.All parts of the product have undergone rigorous durability tests.High temperature resistant and water proof.
* 【Adjustable and comfortable】The seat back is 160° adjustable.Ergonomic Designed and armrest equipped make the seat very comfortable to sit on.
* 【suspension stroke】Suspension Adjustable height to 3 different positions.Height from base plate to seat cushion top edge 310 mm -370 mm.
* 【Safe】The new model has been upgraded to retractable seat belt with emergency locking..Contains Operator pressure sensor.
* 【Universal Agricultural Machinery Seats】This suspension seat is designed for most of heavy mechanical seat, such as fork lifts, dozers, aerial lifts, floor scrubbers, riding mowers, tractors, excavator and trenchers.
Description
* Swivel for Easy Entry/Exit and Operator Positioning
* Steel Pan with Trimmed Edge
* Black Molded Cushions
* Vinyl Seat
* Adjustable Armrests
* Adjustable Seat Back (Backward 28°, Forward 90°)
* Suspension with Weight & 3 Position Height Adjustment
* Includes Retractable Seat Belt
* Slides
Specs
* 1.75", 2.50", 3.25" Stroke Depending on Suspension Setting
* Weight Capacity: 110lbs.-286lbs
Application
* Loaders
* Backhoes
* Construction Equipment
* Street Maintenance
* Utility Tractors
* Combines
* Cotton Pickers
* Sprayers
* Forage Harvest
* Hay Cuber
* Speciality/Industrial Tractors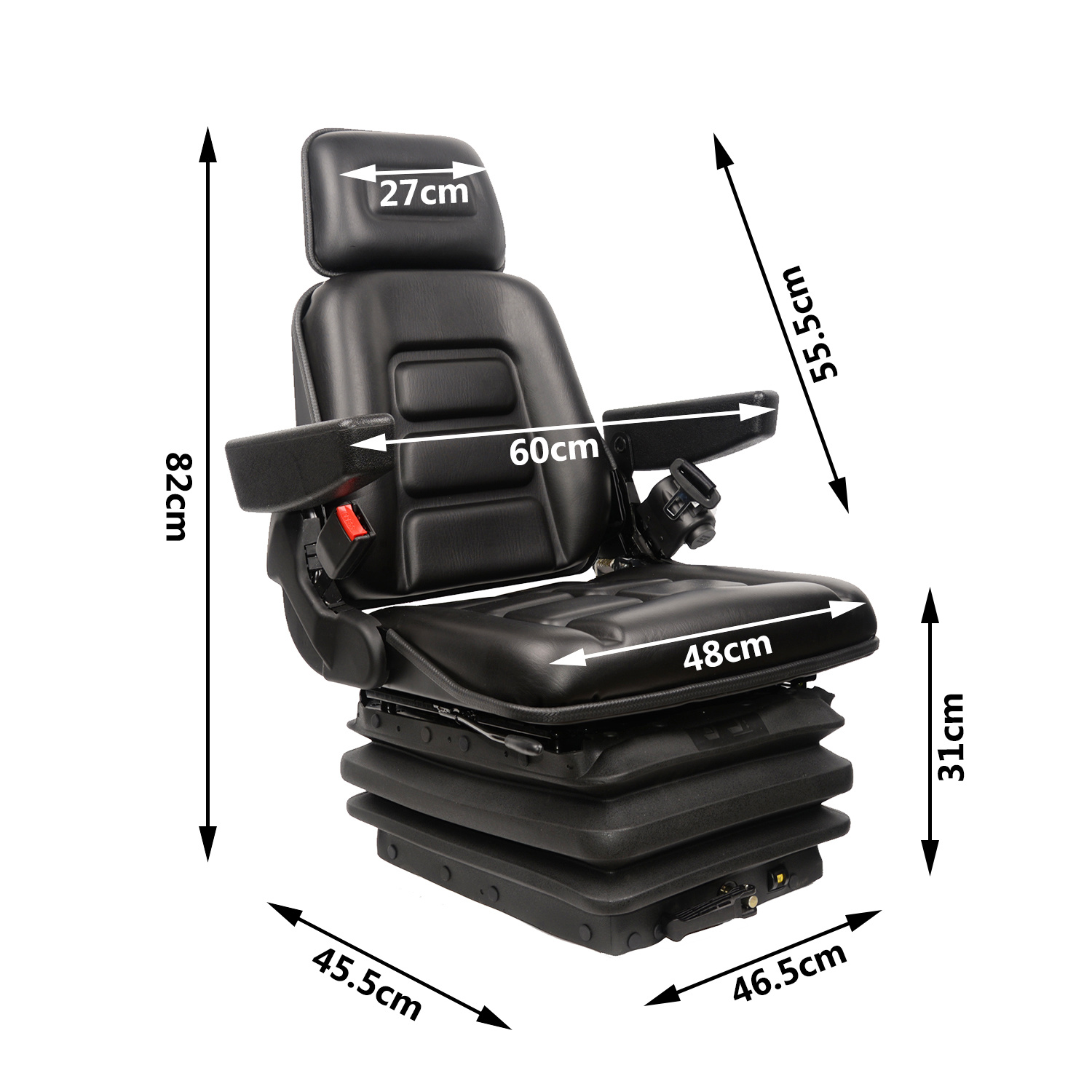 KL Seating
---
*Note: Please be sure to fill in the information accurately and keep your communication open, we will get in touch with you as soon as possible